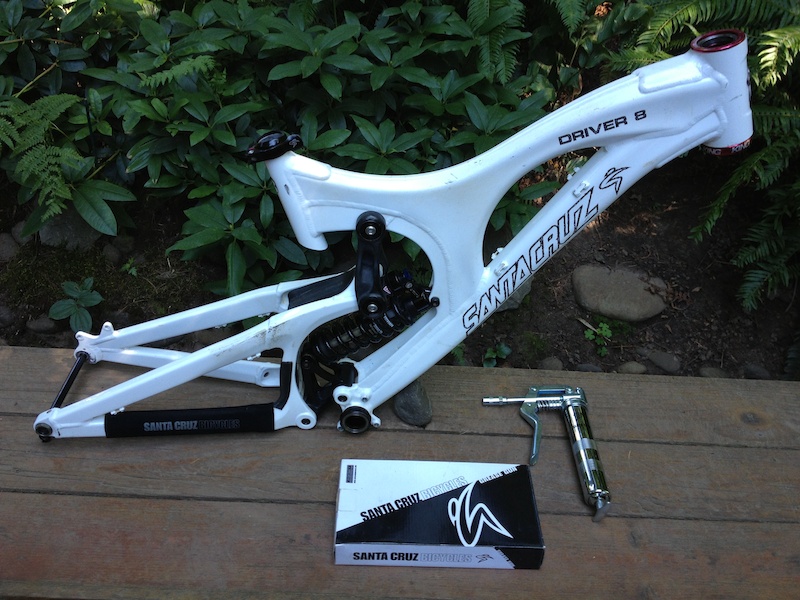 The first step to building a bike is ALWAYS the same thing. Buy your frame. The frame is by far the most important component to any bike, it dictates every other part of your bike as well as the size and feel. If you buy a frame that doesn't fit you properly, the bike will never feel right, so you basically just blew the majority of your budget on a part that you won't like. So seriously, pay attention when you're buying it.
When I started looking at my frame, I began browsing near the end of summer. This is generally the best time of year to start looking since everyone is selling their used bikes. Because there's so many putting up offers, everything ends up being much cheaper than any other time of the year. Because of this, I had a mad rush of trying to get the right frame before anybody else could snag my favourite.
When comparing different frames, I already knew that I needed a size M, so that part wasn't hard. The difficult part is finding a frame that you like the look of, and that you like mechanically. By mechanically I mean whether or not you like things like the length of the top tube, size of the head tube, and the angle of the frame. This is all a bit confusing to new bikers, so I'll give you a breakdown.
The top tube length is the length of, well, the top tube (kind of a no-brainer what that is). This is an important piece to consider, since it dictates how stretched out your body will be. The top tube length is generally how long the bike will be from the seat to the handlebars, essentially meaning your butt to your hands. If the top tube is too long, you'll feel like the Spanish Inquisition came and put you on a stretching rack. If it's too short, it will feel like getting stuck in a trash compactor.
The next most important measurement on a downhill bike is the head angle. This is the angle, measured from the head tube at the front of the bike, of how far downwards the top tube is tilted. Generally speaking, the flatter angle is, the easier the bike will be for pedaling. However, for downhill riding, a lower angle is generally better. Somewhere from 64-68 degrees is a relatively standard angle for a downhill bike.
The other important measurements on a downhill frame include the length of the chain stay, which is the length of the back of the bike, and the size of the head tube and bottom bracket, which dictate how stiff the bike is side to side and up and down.
When I was looking at different frames, I started and ended off on a website called Pinkbike, which is where nearly everyone sells their bike parts. I was originally looking at a wide variety of frames, and decided that I was ok with the Specialized SX Trail. I liked the looks of it, and it's one of the more popular downhill bikes. However, I wasn't fully pleased with it. The last bike I had, which lasted for four years, was a Santa Cruz Bullit, and I came to fall in love with the Santa Cruz brand. The frame was reliable, and took a massive beating without complaining at all. This lead me to find the Santa Cruz Driver 8, an outdated frame that they stopped making in 2011, replacing it with the new V10. Although outdated, it had everything that I wanted. The sizing and measurements were perfect, it was aesthetically pleasing and unique, and the suspension system was a big step up from the Bullit.
One of the issues I had on the Bullit frame was the the rear suspension only had one pivot point. This made it insanely reliable, and allowed it to take more of a beating, however it had some disadvantages. The single pivot suspension makes the bike essentially fold in half when it compresses, meaning the bike can't be preloaded (compressed so that the spring gives you extra pop when doing a jump) when setting up for jumps, and whenever I pulled the brakes, physics took control and made the suspension not work to it's fullest extent. The Driver 8 on the other hand, has a four pivot system that solves those issues, making it an ideal frame. Another cool feature is the offset bushings, which allows me to change the frames angle by moving the rear shock.
Sadly, the only Driver 8 that I was able to find on Pinkbike was a 2011 model being sold by someone that lived in Oregon. Well that just sucks now doesn't it? Nope! After contacting the person just in case, it turns out he was coming up that weekend for a trip to Whistler, meaning I could meet him half way and buy the frame anyway. This was even more lucky than it sounds, since the guy I bought it from had built the frame to be insanely good quality, so he left on a couple of the parts. This included a Chris King headset, which is quite literally THE top of the line headset for downhill bikes. It also came with a RockShox rear shock, which is better than anything I would have bought. The best part? The entire thing only cost one thousand dollars. If I bought that all new, it would have costed two thousand dollars or more.
Some challenges I've faced so far include trying to find the right color scheme for the bike, and just trying to find a frame I like. The transaction happened so fast that it was relatively easy, however if I had settled my mind on a different frame I would have had to spend much longer looking for a good price on one that I liked. I am also finding it challenging to find a mentor who is nearby. I am currently going to have one of my dad's friends who works in Maple Ridge at Maple Ridge Cycles, however it is 45 minutes away from my house. Although he is far away, I will try to find ways to incorporate a trip to his shop when I go out for BMX racing.
Mostly what I've learned so far is how difficult is is to find the right pieces, and how it is even more difficult to find the right prices on those parts. I am on a relatively tight budget, since I don't really want fourteen years worth of savings to go into one project. I do care about making the bike good, but I would still like to have something other than a few crumbs left in my wallet. I've learned strategies to conserve my money, and how to make what I have go a much longer ways. This can mean searching for the right prices, making sure the person I buy it from doesn't rip me off, paying attention to sales, and how much I can barter with most people before they blow me off. I've also learned a lot more about how the rear suspension works, and how the pivots can affect so many different parts on the bike. For example, a single pivot will be directly affected by braking, whereas a three or four pivot system will not. I have also learned how to properly negotiate with someone over the internet. Bartering with a street vendor in Mexico is easy, since you know that they're expecting it and you can watch their reaction. However, over the internet you must be much more careful, and offering a lowered price can often lose you the deal. I've learned that it's extremely important to make yourself sound like an actual person, using proper grammar and what not, rather than a pickle who learned how to make emoticons. This can help me become a better builder as well as mentor for others, since general knowledge like this can go a long ways in the big world of online shopping. More mechanical knowledge is equally as important, since it doesn't matter how good you are at buying parts if you're still trying to put the round hole in the square peg (yes, intentional).
My mentor, Troy, originally started bike building and repairs as a hobby, before working at Norco for a few years. He then left Norco to open up his own bike shop, Maple Ridge Cycle. Since then, he's been teaching himself his techniques through repairing different types of bikes and general mechanics, including all types of bikes, exercise bikes, and once even a golf cart. So far, he's taught me how the suspension pivot system works, how the angles on a frame relate to each other, and how to properly size a frame. He also helped me pick out the right style and size of frame, as well as getting the right price on it.
measurements:                 small                         medium                       large
| | | | |
| --- | --- | --- | --- |
| Headtube Angle: | 65.5 ° | 66.5 ° | 66.5 ° |
| Seattube Angle: | 68.5 ° | 68.5 ° | 68.5 ° |
| Headtube Length: | 109.22 mm | 119.38 mm | 129.54 mm |
| Chainstay Length: | 441.96 mm | 441.96 mm | 441.96 mm |
| BB Height: | 370.84 mm | 370.84 mm | 370.84 mm |
Link to bike picutres:
http://www.pinkbike.com/u/dibgydog/album/Santa-Cruz-Driver-8/